******  "Mini Shows"  ******
We are intending to have a 1959 Mini Register stand at the following events this year (2018).
We would appreciate anyone interested in bringing their 1959 Mini or requiring any further information regarding any of these events getting in touch with us here..
We do need to plan ahead to book space with the organisers.
The 1959 Minis are 59 years old this year so lets try and have a good turnout.
---
As a side note to the 2018 events, please be aware that next year (2019) is the 60th anniversary of our 1959 Minis.
Although this may seem like quite a long way off, we need to start making preparations for the 2019 events.
The IMM is 8th to 12th August at Bristol and the British Motor Museum at Gaydon is having a Mini 60 event 3rd to 4th August.
The Motor Museum event has been scheduled the weekend before the IMM to enable visitors, especially from overseas, to tie up the two events with their visit.
We intend having a 1959 Register stand at both events with as many 1959 Minis as possible.
This is a chance of getting as big a line-up of cars as possible, we had over 20 1959 Minis at the 50th anniversary IMM celebrations, let's try and beat that next year.
Keep your diaries clear.
We would love to hear from any of you who might be interested in joining us with your 1959 Mini. Contact us here..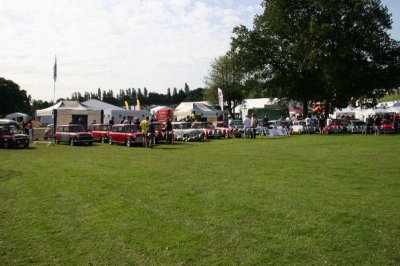 The 50th year celebrations
---