It's with great sadness we share the news of the loss of Peter Tothill.
Peter was the Senior Production Engineer at Cowley who masterminded the production method of the Mini.
They took apart one of the 1958 prototypes and rebuilt it to see how it all went together, from there his team of 4 built Morris chassis number 101 in 3 days over the Easter weekend in March 1959.
Peter famously fell out with Issigonis at the time of AOK's build because the front sub-frame would not clear the steering rack on the line.
Peter told Issigonis & Jack Daniels this on the shop floor, Issigonis got very cross with Peter for what he saw as questioning the great man, Peter's reply was simple, if you want us to build that car on this line you will need to re-design this.
After what seemed like a very long silence, Issigonis whispered in Jack Daniels' ear and walked off, Jack turned to Peter and said "do whatever you need to".
Issigonis never spoke to Peter ever again.
The Mini community has lost another great man.
Peter Tothill Rest In Peace.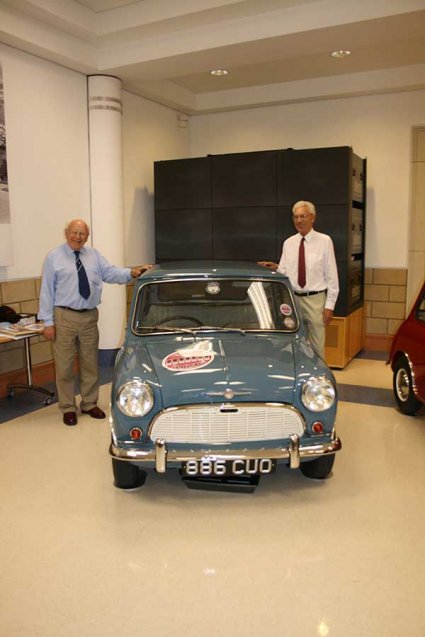 Peter seen here on the left on the 1959 Mini register stand at Gaydon 2009.