Auction ended with this 8th 1959 Mini off the production line reaching an unbelievable
£40,250.00
including commission.
Full report to come soon.
GOING TO AUCTION
Bonhams 30th April 2012 Auction
The 8th built and believed to be the oldest un-restored example
1959 Austin Mini Se7en De Luxe Saloon
Registration no. XLL27
This Austin Se7en De Luxe is believed to be the oldest surviving un-restored Mini. Accompanying correspondence from the British Motor Industry Heritage Trust states that it is the 8th of its type to come of the production line at Longbridge in May 1959, some three months before the launch of this legendary model on 26th August. The BMIHT correspondence confirms that the car was despatched on 31st July 1959 to Car Mart Limited in Colchester, whose service plate is riveted inside the engine compartment.
It is believed that only three Minis earlier than 'XLL 27' still exist; one is '621 AOK', which forms part of the BMIHT's collection at Gaydon while the other two (one of which has been converted into a cabriolet) are in Japan. From 1986 until last year the car was owned by David Gallimore of Chichester, the previous owner listed on the copy Swansea V5 on file being Mrs Gladys Hobro of Aldwick, Bognor Regis. The car is complete and has all the features that distinguish these very early Minis, including the famous glass washer bottle. Some parts have been removed for security and ease of transport but all will be provided at the sale together with a Swansea V5 registration document.
The driver's door has been replaced but other than that only a few small items appear to have been renewed. 'XLL 27' retains its factory Farina Grey paintwork, all its original panels, engine, transmission and the original registration number. The interior is likewise original, intact and complete except for the carpets. Even the original Bluemels numberplates survive and there is evidence to support the belief that the recorded mileage of 30,041 miles is correct. A paper brake service label remains fixed to the near-side door jamb, recording work carried out at 17,942 miles.
There is evidence of corrosion in the front floors, 'A' panels, sills, doors, rear seat well, boot floor and rear valance but a surprisingly high percentage of the shell is intact. The rear sub-frame appears original, as do all the steel hydraulic pipes. The engine has not been run for many years.
The August 2011 issue of Classic & Sports Car magazine devoted six pages to this amazing survivor, which represents a unique opportunity to own an astonishingly correct example of one of the 20th Century's greatest cars in its earliest, purest form. There can be few more important examples of British automotive engineering.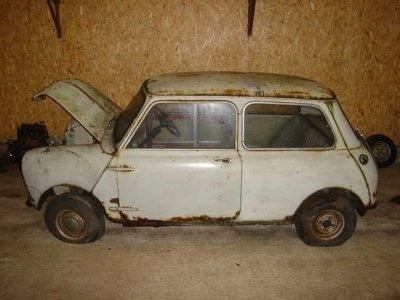 About XXL 27 Austin 108
Built on 15th May 1959 and dispatched to Car Mart in Colchester 31st July.
Previous to the current owners, this historic example of an Austin Farina Grey De-Luxe, has had two owners from new and been in the second ownership since 1986. Off the road since 1985 it is in very original unmolested condition but requires a full restoration.
Only two earlier Austin's are so far known to exist, HUE 627 and KEG 77 are both in Japan so 108 could be the earliest Austin in Europe.
It came with the original registration number and a host of paperwork including the heritage certificate, what a find!
108 is now (2011) in the ownership of a consortium of people headed up by Richard Bremner.